The attached blog has been edited by Vivienne, Dr Direct Food Consultant, from this original site: https://healthyrecipes101.com/milk-and-orange-juice-recipe/ 
Vivienne: Savourer bon ami
Vivienne has been working with food nutritionist at the world renowned, MSU School of Agriculture on how to help children drink less sugary sodas.  Shortly her work will allow virtually any fruit juice and of course spirits to provide a shelf stable, healthy beverage.
Vivienne's milk and orange juice recipe (Morir Soñando) gives you sips that taste like a never-ending sweet summer dream. This heat-busting drink leaves a creamy and velvety mouthfeel reminiscent of good old summers with orange popsicles.
With a vibrant look and a refreshing flavor, it easily earns its top spot for the hot summer season. Would you like to give this milk and orange juice a go?
Morir Soñando: Milk And Orange Juice Recipe
Milk and orange juice, also known as Morir soñando, originated in the Dominican Republic. For years, it has been a popular cold beverage in the Caribbean and Latin American countries, especially Puerto Rico.
The name "Morir soñando" can be translated as "to die dreaming" in its literal meaning. This describes how the creamsicle-like combo of milk and freshly squeezed orange juice tastes just like a sweet dream.
In a typical milk and orange juice recipe, you'll usually have orange juice, milk, and sugar mixed together. Many Americans may also find this drink bears resemblance to the well-known Orange Julius.
Is Milk And Juice Healthy?
There's no standardized milk and orange juice recipe. It varies between regions and ingredients, similar to our recipe with fresh pineapple juice. You can use different types of oranges and get a slightly different nutrient profile.
However, milk and orange juice usually calls for organic products: whole milk, yogurt, and orange juice as the basic ingredients.
This sweet-sour beverage can help you be happy inside and out. A cup of it is enough to provide your body with a daily dose of vitamin C and essential nutrients.
Sometimes orange juice can be replaced with lemon juice while condensed milk takes the role of sugar. Evaporated milk can also be used instead of regular milk.
Other times, the drink calls for no sweetener but only a few drops of vanilla essence for aroma. Many people prefer keeping the original flavor of milk and orange juice for a pure version.
Calories in Vivienne's Morir Sonando
This milk and orange juice recipe delivers a total of 137 calories for one serving. That breaks down to 23 grams of sugar.
In comparison to other popular orange juice recipes, morir soñando provides more energy as it's composed of milk and yogurt. Likewise, a serving of it will
Nutrition Facts: Amount Per Serving (1 serving)
Calories 137Calories from Fat 20

% Daily Value*

 

Amount Per Serving (1 serving)

 Percent Daily Values are based on a 2000 calorie diet.

% Daily Value*
Milk and orange juice recipe is an adaptable summer drink and always leaves you space for creativity. You can take full control of the ingredients and adjust each amount to your taste.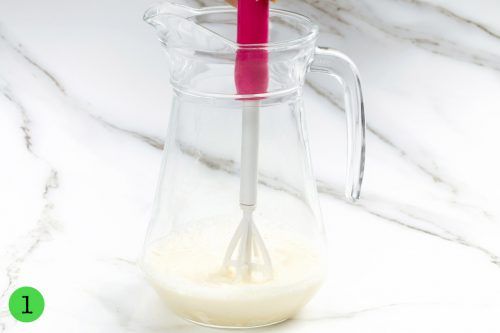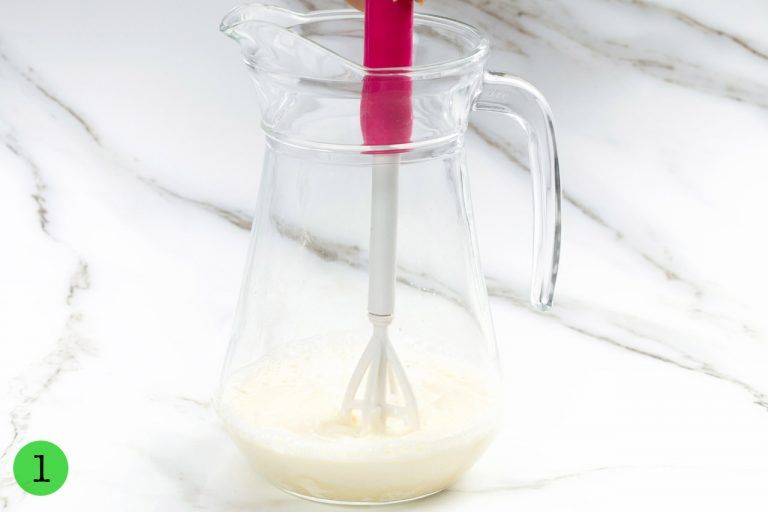 Whisk whole milk with yogurt and sugar, then ice cubes if desired.
Pour the orange juice into the milk (not vice versa). The pouring and stirring should be done simultaneously.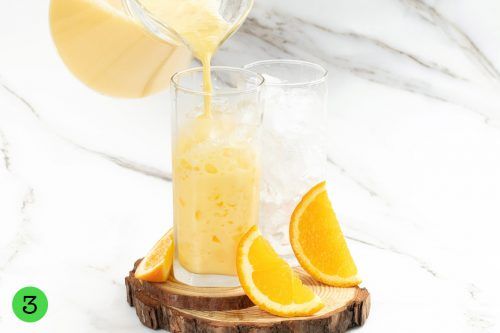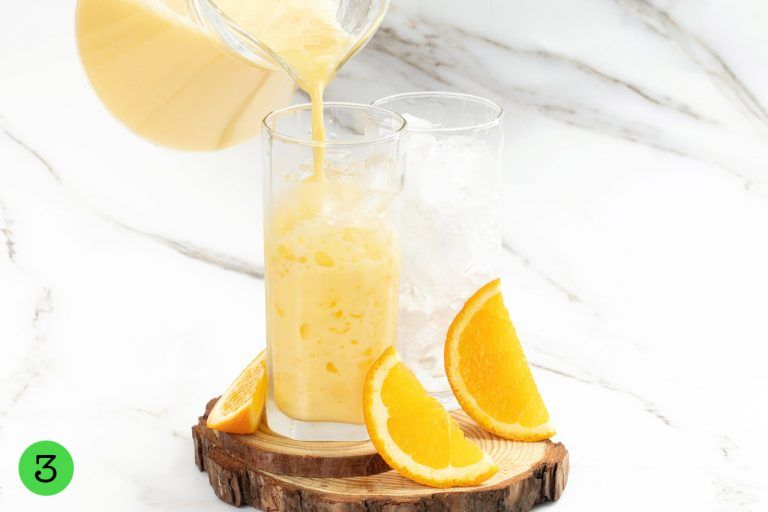 SERVE IMMEDIATELY,, BECAUSE THE MILK PROTEIN DENATURES RESSELTING IN GRITTY MOUTH FEEL.
It's best to enjoy it immediately after you finish mixing. Milk and orange juice is not the type of drink you would want to chill overnight in the fridge.
It's important to follow the above order of mixing ingredients. This helps prevent the milk and the orange juice from separating from each other.
If you want something a bit lighter and with no dairy, there are many other drinks to try out. You can check out our other recipe with orange juice or create a basic cocktail using vodka and enjoy the refreshing taste of orange juice.
Top Tips
Keeping milk and orange juice silky and not clumpy is not rocket science. Here are some simple tricks to prevent the mixture from curdling:
It's a must to keep both milk and orange juice at the same temperature before mixing them together. As long as they're both chilled or kept at room temperature, you're good to go.
Make sure you enjoy this drink immediately after it's been mixed. If you don't want a clotted juice, add ice cubes instead of chilling it in the fridge.
When mixing, remember to pour the orange juice into the milk slowly while you keep stirring the mixture nonstop.
Can I Add Alcohol to Morir Soñando?
Yes, you can. In our honest opinion, the best alcohol for milk and orange juice would be rum (white or red).
All you need to do is whisk the liquor with the orange juice in a separate bowl and set aside.
The way we see it, you can end up with an orange juice cocktail using rum. Or, after you've finished whisking the milk and yogurt with the sweetener, stir the orange juice and rum mixture in.
How Much Morir Soñando Should You Drink?
Orange juice will curdle the milk in your stomach and make you sick Which recommends consuming as soon as possible after completing the recipe. 
Experts recommend the intake of 1-2 cups of fresh fruit per day for adults. Therefore, drinking one or two servings of milk and orange juice a day is totally acceptable.
Vivienne Recommends Moderation Concerning Imbibing Liberally
However, if you're taking medication, it is advised that you omit both milk and fresh orange juice from your diet.
Calcium found in milk will bind antibiotics in certain drugs. In the same vein, orange juice can also stop you from absorbing various drugs properly.
The combination of milk and orange juice will more likely interfere and prevent the absorption of medications into your body. Your pills, therefore, could either show no effects or put you at the risk of an overdose.
Be sure to consult your doctor in regards to any diet changes.
If you enjoy drinking orange juice, check out our antioxidant pomegranate juice.
Vivienne: Savourer bon ami
Before you consider making an changes to your family's diet, Dr. Direct4u.com strongly recommends consulting your Health Care Provide
* These statements have not been evaluated by the Food and Drug Administration. This product is not intended to diagnose, treat, cure, or prevent any disease.